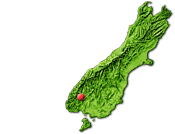 Manapouri
Manapouri
Manapouri Township, the gateway to both Doubtful Sound and Dusky Sound, is a 20 minute drive from Te Anau, the hub of Fiordland. The township, with a permanent population of 400, is situated on the pristine shores of its namesake, Lake Manapouri, a popular destination during the summer months when visitors come to soak up the sunshine and calm waters.
Few lakes are more beautiful and mysterious than Lake Manapouri, which is often referred to as the loveliest of all of New Zealand's many lakes. There can be no doubting Lake Manapouri's unique beauty, fully revealed and appreciated by taking a trip on the lake itself, past untouched bush clad islands beneath the spectacular Cathedral Mountains. Thirty-five wooded islands dot the lake, and the shoreline extends for 157 km, covered by lush rainforest interspaced with lovely beaches. Take a scenic cruise or experience the coves, bays and islands at your own pace kayaking on the crystal clear waters.
The name Manapouri is a corruption of Manawapora ("sorrowful heart"), a Maori name mistakenly given to Manapouri by an early European cartographer, the original Manawapora is now called North Mavora Lake and lies to the north-east. The ancient Maori name was Roto-ua (Rainy Lake), but it later became Moturau, literally meaning "many islands".
Today, launches, boats, yachts and kayaks are regularly seen on all parts of the lake carrying both tourist and private parties on their various excursions and adventures. Boats are moored at Pearl Harbour, the lake's outlet into the Waiau River, which can be crossed to access to some of the local walks.
Those who have come to know this extraordinary lake greatly value the seclusion and pristine atmosphere to be found in its many arms and bays.

---
Tour Manapouri

Tour Manapouri Area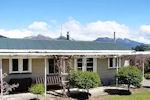 Classic Cottage
- Cottage, Holiday Home.
Excellent quality budget accommodation, moments walk to the lake with and stunning Fiordland mountain views.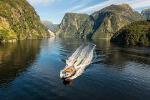 Doubtful Sound Cruise from Lake Manapouri
- Sightseeing Cruise - Queenstown.
Starting from $239.00 per person
.
Flick your phone to flight mode & check out our majestic peaks. Make your mates back home jealous as you bombard them...